R/evolutions Round Table, Europe as an actor in a Multipolar world,  Panel of the 13th European Political Conference "EUROPE of the XXI CENTURY"  Słubice, February 7th 2013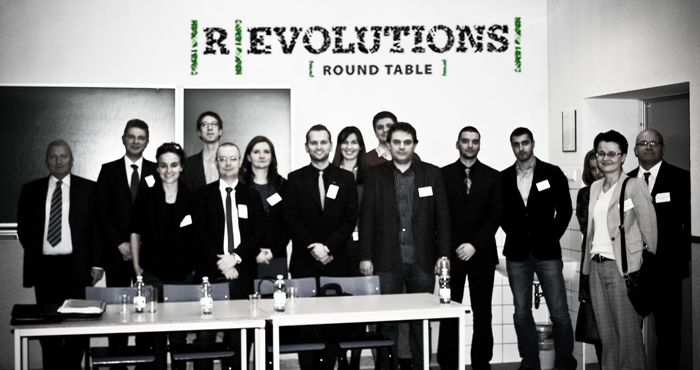 Every February for the last fourteen years Collegium Polonicum in Słubice has hosted an International Scientific Conference devoted to study of European integration's different aspects. The venue carries a lot of symbolism. Collegium Polonicum is a joint project of Adam Mickiewicz University in Poznań and the European University Viadrina in Frankfurt (Oder). Its campus, located practically directly on the Polish-German border, is a place where different cultures meet and students, as well as scientists from Germany, Poland and host of other countries work together in a multinational environment. In our opinion, it provided an excellent venue for our first Round Table event during which we could test our project's ideas and present them to a wide audience for comments and evaluation.
We chose a topic dealing with EU's evolving role in international politics. The EU Community's diplomatic activity, external trade policy and security activity throughout neighboring regions, as well as their reception by other world powers, have a clear and discernible impact o the lives of all Europeans. That is why we aimed to popularize the effects of analysis concerning those topics undertaken by a range of experts and in this way raise the public awareness concerning Europe's external activities. This undertaking proved to be successful, thanks to a lively discussion between panelists and the audience which, from the beginning had been viewed by us as equally important as experts' presentations. Together we have formed thoughtful reflections on EU's place in the world, as well as conclusions concerning ways to forecast possible future developments.
Participants and presentation titles:
Łukasz Donaj (Ph.D.)- Europe, European Union and Crisis- review of selected prognoses and simulations
Joanna Skrzypczyńska (Ph.D.)- EU's Trade Policy in the face of economic crisis
Beata Przybylska-Maszner (Ph.D.)- Political Deconstruction or Strategic Future of the European Union?
Jacek Raubo (last year Ph.D. student)- Military potential of United Europe